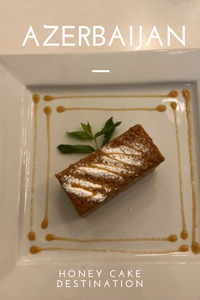 Balli: Licorice Honey in Azerbaijan on the Coast of the Caspian Sea
Going Savory In Baku
Licorice Honey? Ok, you got me - I had to do a blog post about this because it sounded like 6 different degrees of crazy.  However, before you start slinging your opinions around, everyone is different. I say it at the booth all the time - just like the nuances that exist in people, so is there the same degree of variety among taste buds.  Travel to the Middle East, France, or Eastern Europe and you will discover a strong appreciation for savory foods, pronounced and bitter flavors.  I can tell you based on my experience selling honey to people from around the globe - Americans are viewed as a culture that likes their food on the sweeter side.
Licorice honey can either be blended (steeped) with anise OR it can be harvested when the bees pull pollen from anise plants.  As hard as I tried, I have been unable to pull any data on how the Apiaz Ltd products (the honey line is Balli) are specifically produced.  If you are fluent in Azerbiajini, Turkish, or Russian, you can read in more detail about the specific honeys here. (Sorry - no auto-English translation on their site)
I can tell you that Licorice and Meadow honey are two of their flagship products.  Another that caught my eye was walnut infused honey known as Balli Qozlu.  This is a full-on saturation consisting of a mason jar filled with shelled walnuts.  Honey is then added to remove all the air - very popular snack/dessert throughout the Middle East. 
Not Known Just For the Oil & Gas Boom and Soviet Occupation
While you can order the Balli honey online, you really need to live somewhere in the Caspian Sea region to get it shipped to you (unless you are buying a shipping container full - then that is another matter).  For the regular consumer (for whom I write), if you can not find Balli products at your neighborhood Middle Eastern Market - you are not necessarily S.O.L. You can always ask the shop owner if they can get it from their distributors.  You will be surprised how far a polite request with a smile can get you.  If not, looks like you are going to need to grab a flight to Azerbaijan.  You can find this honey all over town.  However, I am going to suggest you travel to this market - at  9R8P+MR Baku, Azerbaijan.  This is a small, stone-walled street side market flanked by smaller garment and rug dealers in the adjacent doorways.
This place is a straight-up, old world delight.  No other way to say it.  From the stone building that houses this treasure to the photogenic packaging, and the ever fluctuating color variation you'll experience through the prism of their monofloral honey collection, this little shop hit the mark in a huge way.  In my humble (not-really) opinion, it is a perfect blend of high-end food retail and old-world, Middle Eastern Bazaar shopping.
Need another excuse to check out 'The City of Winds'? I tripped across this YouTube V-Logging couple, Kara & Nate, who had one day to spend in Baku.  I think their video captures the city vibe better than my words.  Check it out:
For the uninitiated, Azerbaijan is not only the seat of secular politics in the Caucasus (and about a million oil derricks). Azerbaijanis were also occupied by the Soviets for a while but I won't get into that for two reasons - 1- I am in no way qualified to teach Middle Eastern history and 2-this blog is about honey, travel and food adventures - not the Treaty of Gulistan.  And with that, I segue - my homies from the Absheron Peninsula have their food game dialed in. The historical center of Baku has a turbulent past. One could start the story when it became the  Persian capital, transition to its oil boom to the Soviet occupation (but again, that's very academic). If you look at the old city, it is a maze of alleys, historic buildings and mosques.  There are even shadows of ancient fortification - smash cut - Maiden Tower & Palace of the Shirvanshahs (both listed among UNESCO's World Heritage Sites - La Dee Dah).  That's it - that the extent of the history lesson.  Now, on to lunch (or dinner, depending on when your plane lands).
Where To Chow Down:
There is no way I have the time or energy to give you a full run down of the best watering holes.  So, I'll zero in on one that has the best reviewed, honey based dessert: CafeCity Wine. 
It is unusual that I fawn over anyone's website but the owners should pay their photographer their weight in gold.  This place is a wine taster's paradise.  Sure, you could make dinner plans here but I have a better idea. Pick another place and make CafeCity your after dinner dessert & digestif destination. CafeCity is the place you go to for that 'satisfied-after-a-full-meal' afterglow to commiserate with your significant other, enjoy a glass (pardon me, a bottle) of wine and share a dessert.
And speaking of dessert, in keeping with the standards of my blog, I am going to steer you towards CafeCity WIne's honey cake or Medovik. Honey Cake is a layer cake, that is Slavic in origin.  You will find it all over countries once occupied by the former Soviet Union. Key ingredients are honey and sour cream (smetana) or condensed milk. Just be advised, if they are making it fresh, it has a lengthy prep time.  Why? Layers of sponge cake, cream filling, nut garnish. The thin layers harden shortly after removed from the oven. The moisture of the filling softens the layers as time passes - much like Tiramisu.There are umpteen different recipes variations but, honey is ingredient #1. Order some (then overnight ship me a slice).
---