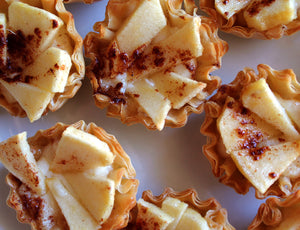 Cheese Tea Pastries
I think you people need a new recipe to consider for this Easter.
Cheese Tea Pastries
*2 cup flour
*1/4 tsp. baking powder
*1 tsp. salt
* 1/4 c cold shortening
* 1/4 c. butter
1 c. cottage cheese
Sift dry ingredients together.  Cut in shortening and butter until mixture resembles cornmeal.  Add
honey
to cottage cheese; mix well. Add to flour; mix lightly to make a smooth dough.  Roll out this on lightly floured pastry board. Cut into desired shapes. Place on cookie sheet. Bake at 325 degrees for 10 to 15 minutes or until lightly browned.  Cool on wire rack. Yield - approx. 35 pastries.
While this was my recipe, I had an emotional connection with the pic of the Peeta's honey and apple goat cheese pastries from
E-Rad's Cantina
.  E-Rad is run by Erin - a self proclaimed Star War's geek - and she happens to make some amazing pastries.  
---