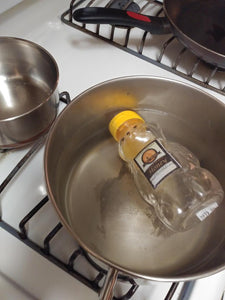 Decrystallizing Honey
I am coming at you with a 'How To' blog post this week.  Since I started this honey shop endeavor, not a week goes by, not a week, where someone asks me what can be done when their jar of honey 'sugars up', 'turns hard', 'crystallizes', 'gets all gritty'... Pick your descriptor. 
Some of you reading this might say to yourselves, "This is so simple.  It doesn't even warrant a blog post."  That's what I thought until I realized that I have been answering this question over and over for the past 7 years,  So here goes:
 1) Fill a large pot (large enough to accommodate your honey container) with water, place on the stove.
2) Turn the heat up half way.
3) Turn heat off once the water comes to a boil.
4) Please close/sealed honey container in the hot water.
5) COVER THE POT (this holds the heat in.
6) Check every 3-5 mins.
Don't want to take my word for it?  OK - take it from Carolina Honey Bees.  They will give you the particulars on temperatures (hint:  use a thermometer to stay under 110 degrees). 
#honey #hardhoney #easyfix
---