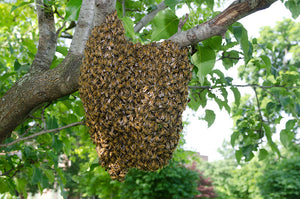 Don't call an Exterminator!
Right around now (May) I get lots of people who ask how they can get rid of honey bee swarms they find on their property or in the walls of their home.  You would think that with all the press in circulation right now about 'Save the Bees', people would not be turning instinctively to exterminators. Unfortunately, if you're not in the business, an exterminator is a pretty obvious choice, albeit an uninformed one.
The true is that wild honey bees represent a real world savings to bee keepers.  To populate a new hive with a new colony (if purchased) can run a bee keeper anywhere form $300 to $500 PER COLONY! A bee keeper in your area would be more than happy to come to your home and collect with wild swarm that has taken up roost in your back yard.  A quick Google search will tell you who in your area raises honey.  The added benefit of calling a bee keeper is they won't use a bunch of poisonous chemical like an exterminator would.  The bee keeper will collect them manually and put them right to work.  You will probably get free honey out of it if you play your cards right..
---