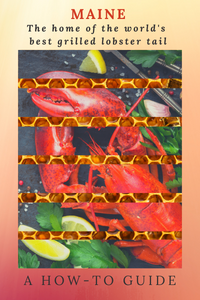 Grilled Lobster Tail with Honey and Butter served with a sizzling side story!
The best thing about being a foodie and being on a road trip, (I prefer calling it a food adventure) is relishing a lot of the local delicacies. On my last road trip I had the pleasure to travel through Bath Maine which, lots of you know, is the best place for all things seaside, what with its 3,500 miles of coastline  from shipyards to seafood grills and gusty getaways. And for those who don't know it, in the food and travel vocabulary, Maine is synonymous with lobsters. Going to Maine and not having a lobster experience is inconceivable, like, why would you do that?? Almost sacrilegious! 
Okay I'm being hyperbolic here as you can of course try their fresh catch fish bounty if you're not a lobster kind of guy. That said, let's get back to lobster - the star of the Maine show (pun intended) and I'm treating you here to a front-row seat. And of course, if you know me, you're almost certain that that trip was a good mix of lobster, honey, and adventure hunt! Superfly fishing charters + road trip + farmer's market + seaside grill against the backdrop of endless cliffs, lakes, rocky coastlines, and the woods made it one of my favorite food vacations ever. One blog later, I still can't stop talking about it! So on to the next paragraph lest I talk on and on.
As promised in my previous blog, I'm following up my Bath Maine trip story with this awesome garlic butter lobster tail recipe with a dash of honey of course to kick up the flavor. For this particular recipe from @overthefirecooking, I suggest you use a light honey in order not to overpower the flavor of the seafood and butter but simply complement it to highlight the taste even better. My best pick for lobster tail recipes like this would be either single-pollen honey (monofloral) or orange blossom honey. Both work best in bringing out the flavors of those meaty crustaceans for a restaurant style, decadent meal. Lobster is sumptuous no matter what. It's like a fusion of the goodness of prawns and steak that leaves you craving for more. And lobster tail is like a cult delicacy especially for seafood fans. It's definitely not what you'd want if you are looking for a quick grab and go kind of meal Instead this one adds that fancy and festive feel to an otherwise casual dinner. Got an occasion to celebrate? Toss a few lobsters on the grill and slather it with some honey, Cajun, ginger, garlic or any herbs you like and your taste buds will be rhapsodizing thereafter! So, without much let's get to this recipe that had me raving.
Grilled Lobster Tails w/Honey Cajun Butter Sauce on top.
Ingredients: Lobster: 5-6 Lobster Tails Salt Pepper Olive oil Butter Sauce: 1.5 tbsp of Cajun Blackening from @spiceology 4 tbsp of butter a tbsp of garlic or even a few pods of garlic grated into the butter 2 tbsp of honey 1 lemon juicedGrill the lobsters over fire for about 3 minutes per side and then baste them in the sweet and spicy butter sauce made with Cajun Blackening Rub from @spiceology. You can also use this recipe with chicken or pork.
Procedure: Once the lobster tails are cracked, carefully fold the shell back so that both sides of meat show. Marinate with olive oil, salt, and pepper, Start grilling for 3 minutes on each side Baste with the sauce
Other Variations:
Shrimp or Salmon: Same ingredients and process. Cook shrimps for a couple of minutes until done (about 3-4 minutes for shrimp and 2-3 minutes per side on salmon) then drizzle with butter sauce.
Chicken or Pork: Same ingredients. Cook chicken to 165F internal and pork to 145F internal and glaze with butter sauce right before taking them off grill.
Dig in and devour!
Feeling fancy yet?
As you're savoring every bit of this lobster meal, I bet it's hard to imagine that this gourmet seafood, once upon a time, way way back before you and I were even born, was actually considered the poor man's chicken. Crazy right? Here's a little trivia: In the mid-1800s, lobsters were plentiful as they easily piled up ashore. As is with everything that's in plenty, they were considered common and unsavory and so became the staple food of the poor, the slaves, and the prisoners of that era. They were even used as fish bait. Imagine, people grudgingly ate lobsters for sustenance! (Somebody please time transport me to that period even if for just a day and I'll consume and hoard as much lobsters as I could get my hands on.)
Then came train transport and canned food. And the poor man's meal slowly became a delicacy among tourists and gained a following among discriminating diners especially in Boston and New York. It eventually got 're-branded' as an epicurean delicacy. Demands from affluent diners saw this once humble bug (yes I got it right) going up the echelons of fine dining. Centuries later, we are enshrining them as God's gift from the sea. Grilling them for parties and blogging about them. And that's actually what these tasty guys truly deserve.
(For more facts about these well-loved crustaceans, click here.) They have even made me love Hey Honey and my honey hunting excursions even more because lobster and honey is a perfect marriage of flavors. And Bath Maine was just the right venue for rediscovering that.I'm glad I got to share with you that fun food holiday in my previous blog.
Thrilled with the grilled.
There are many ways to cook lobster tails. 
You can have it baked, boiled, steamed or broiled, but I'll always love it grilled! The juices drippings, the smoke, the open fire, the aroma. And especially when had by the sea, you know, with waves breaking white, windswept beach, the earthy-mineral scent of jagged cliffs. Just perfect.
If like me, you're also wondering how the early settlers cooked their lobsters back in those days, I recently read somewhere that while the methods have pretty much evolved over time, the lobsters' distinctive and rich flavors have not changed much. Native Americans prepared them by covering them in seaweed and baking them over hot rocks. According to tradition, this cooking method inspired the classic New England clambake. I could imagine their lobster recipes being a combination of nature-inspired and culture-inspired cooking.While we love cooking lobster tails in butter for its creamy appeal, we can learn a technique or two from them on how to grill lobster tails with spunk and a whole lot of character.
Quality ingredients is the key.
If you love this honey with garlic butter lobster tail recipe shared, it's time you search for fresh and quality ingredients you can store up in your pantry for those days when your cravings just can't wait. Grilling lobsters in your backyard can be just as enjoyable as seaside grilling in Maine as long as you have all that you need to create a fancy-looking but actually very straightforward lobster meal. Frozen lobsters are fine if that's all you can get but pick the right honey ('love to help you pick the right kind for your recipe at Hey Honey), herbs, and seasonings for that perfect, hot-off-the-grill lobster experience you can share with your loved ones.
The internet does not have a shortage of creamy lobster butter sauce recipes whether grilled or baked and you can put your own touch to them by adding the herbs you love, creating your own seasonings, and plating the lobsters your own way so you can personalize those recipes as your own. They may look intimidating at first but believe me, a few tutorials and tips could easily turn you into a lobster whisperer (well, maybe not but you get the drift!).
Lobsters are always a showstopper on every occasion. When I go to parties and see them served on a huge platter my eyes instantly light up like a kid in candy land. And with my love for honey and sea bounty I got to search and experience lobsters right there in their own backyard so to speak!
The Maine thing
Lobsters are easily available across the country but if you do have a chance to go right up to Maine, then do so. Lobster lovers, hikers, hunters, waterside wanderers, and nature thrill and solace seekers will find it worth the trip. My honey hunting journey that brought me there is just the sweetest thing about my job. And I'm not trading it for anything. Hey Honey has become, quite literally, the buzz that has flown me to sweet spots, discovering places, people, and palates.
Honey habit
Speaking of honey, this versatile product of nature can easily add flavor to a variety of recipes. Picking the right kind and pairing it with the right ingredients can result in healthy and hearty meals in a breeze. That's why I don't ever get tired of scouring cities, coasts, and the countryside to search for the best they've got because the honey in my pantry goes a long way in jazzing up even the most lowly dishes.
Restless feet, insatiable appetite
Well, I'm still not sure where my appetite for adventure is gonna take me next. But I'm hoping to get my restless feet to another place where food and the scenery pulsate with flavors and excitement. Where I get to know their history, taste their local fare, meet some awesome people, and share stories about lobsters, and honey, and feasts, and the 1800's, and my hive! Until next time!
---