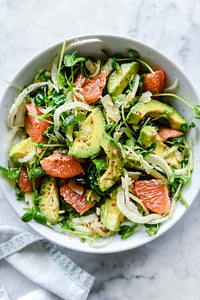 How To: Honey Avocado & Citrus Salad
Sure -  you could throw your own concoction together but you read this blog to get MY take on the right food combination.  I became a fan of this arrangement because I like avocados but to say that it is a challenge to eat them by themselves would be a massive understatement.  This way, you get the natural fats (avocado) with a hearty dose of vitamin C and D WITH a complex sweet compliment from 3 different directions (citrus, honey (obviously), and jam .  Read on true believers....
The Players
2 grapefruit
3 oranges
2 avocados
Lettuce
1/2 cup salad/olive oil
1 tsp salt
1/4 cup honey
1/4 cup raspberry jam
Part of the reason why I jumped at this salad is I've never heard (or experienced) salad with jam in it.  OK - to you pros out there - this might be old hat to you, but to Yours Truly, it was a game changer.
As a nation, we are still dealing with the Covid-19 problem.  Salads are an outstanding way for you to build your immune system and take responsibility of your own well being.  P.S. you can put this one together for around $8.00 and it will cover you for multiple lunches.
Assembly
Peel grapefruits and oranges, section them (smaller chunks, so you can get at them with a fork as well as the rest of the salad).  Then, peel and slice avocados lengthwise. Alternate grapefruit and orange sections with avocado slices on lettuce. Combine remaining ingredients, mix well. Dressing over salad (you knew that part).  This will kick out about 6 servings.
Takeaway
Easy - yea, I know.  Making a salad isn't rocket science.  Never said it was going to be.  Grapefruit not your thing?  Want to more pretty pictures to look at to give you alternative ideas?  Sure - I'm a fun guy - I'll play along.  See if these get your creative juices flowing.
(photo credit dinneratthezoo.com)
Switch it up with pomegranate and kiwi. This one will give you a notably extra bite with a first rate crunch,  
(photo credit No Spoon Necessary)
 Onions, cucumbers, and walnut?  I'll turn this one on it's head - how about pine nuts or - get ready for this - CORN NUTS.  Super crunchy.  Only lacking protein.  Make this a side to a marinated and grilled elk. That combination guarantees you don't need to eat anything else. 
(photo credit Two Purple Figs)
Peanuts - awesome protein source.  Mandarin oranges - sweet, no tartness (again, if you're not a grapefruit fan) and lots of vitamin C.
Feel feel to forward photos of your creations. I'll give you a shout out.
Stay healthy friends.
---