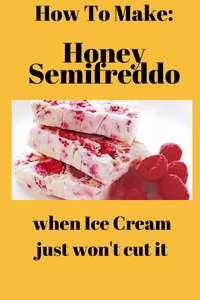 How To Make: Raspberry Honey Semifreddo

Semifreddo: For When You Come to the Decision That Ice Cream is for Savages
Yea - This recipe is straight up - BANANAS! And there is not a single banana anywhere in it.  And no, I have no beef with ice cream.  In fact, I am one of it's biggest fans. In fact, it's pretty fitting that I'm doing this post in the middle of June!  It's gettin' frickin' HOT! Can you get on your bike and head down to Baskin Robbin's? Yes!  Will you be welcomed at your local Dairy Queen? Absolutely!  If that is on your mind, this entry isn't for you!
This is a foodie blog for people who want to expend some elbow grease to make something out of this world - and let me tell you, today - I will not disappoint. Before we get started, let me give you a 'the what'. 
Semifreddo is ) is a type of semi-frozen dessert. Main ingredients being egg yolks, sugar (or in this case - honey), and cream. Consistency - not dissimilar from that of frozen mousse. If we were in Spain the counterpart is called 'Semifrio' - but, I've only been to the airport in Spain.  I spent 2 weeks in Italy so we are going with 'Semifreddo'. You may have heard it referred to as ice-cream cake.  This is full-on WRONG.  If you ever hear someone referring to Semifreddo as such I advise you to cut that person completely out of your life. True ice-cream cake has layers of cake and ice-cream. Details people, they matter.

Ingredients 
 8 oz heavy cream   
1 teaspoon vanilla extract
1/4 teaspoon rose water
4 large eggs
4 1/2 oz raspberry honey
1/4 + 1/8 teaspoon diamond crystal salt, use about half as much by volume or the same weight.
Now, bare in mind, this recipe is EASY to modify - just swap out the fruit and use a different flavored honey and utilize a different extract and BANG! - completely different flavored dessert.  Hazelnut, chocolate, peach, strawberry, etc. take your pick.
Directions
 Get Set True Believers: Line a 9 x 5 inch loaf pan with either parchment or plastic wrap.  You want both the bottom and sides to be completely covered.  Honestly, plastic works the best but the chances are high that you will end up with wrinkled appearance to the dessert once you have completed everything.  Using parchment takes a chunk more effort but this is definitely the choice if you are going for a photogenic semifreddo that will make the cover of 'Ice Cream Monthly' (that is not a real magazine).
Then prep a hot water bath in a large Dutch oven with a thick ring of crumpled tin foil inside.  Make sure the foil is high enough to reach over the water line.  You can always use a ceramic or glass mixing bowl instead, assuming your standing mixer has a metal foot.  In that instance, you don't need the tin foil ring.
Combine cream, vanilla, and rose water in the stand mixer and whip until until it is stiff.  Just be sure to keep watching it - this can happen faster than you think.  Transfer this to another bow/plate.  Then immediately refrigerate until needed. Rinse and wipe down the mixer - you will need it again before too long.
 (I know these are ornate - Semifreddo is a dessert that will be reflective of the work you put into it).
Combine eggs, honey, and salt in the mixing bowl.  Use a flexible spatula to combine and place over the prepared water bath so the bowl doesn't come into contact with the water and adjust the heat to maintain a light simmer.
Cook, stir and scrap regularly with flexible spatula until 165 degrees - around 10 minutes in a stainless steel bowl. If it is taking to long, CRANK THE HEAT UP.  Once at 165, transfer to the mixer with a whisk attachment - whip at high speed until the eggs are foamy (they should QUADRUPLE in size.  It should look like soft serve ice cream (around 5 - 10 minutes).  Also, the bowl will be cool to the touch.
Gently (and by hand), work in the whipped cream. Once it is smooth, add the remainder, whisk briefly if need be. Then fold in with a flexible spatula until combined together. Scrap into the prepared loaf pan, cover tightly, and then freeze until firm enough to slice.
Serving: 
Be sure to use a platter large enough to accommodate the loaf in the freezer. Invert the semifreddo onto the platter using the parchment/plastic wrap to pull it free. Leave the dessert covered and return to the freezer until it is time to eat.  When ready, pull the plastic/parchment off and coat with fruit, nuts, sauces, etc. - go crazy (or bananas). Slice, serve and devour - obviously.
Want another prep option?  Here is a video tutorial to make a chocolate/Nutella option: 
 For this one, I would suggest either the hazelnut or the chocolate honey option in the ingredients.
Happy gorging. 
---