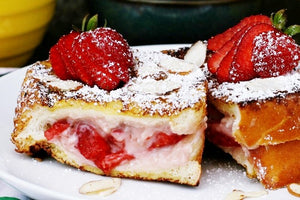 Ice Cream French Toast (with cream cheese and honey filling)
Strap in Fall Fanatics, I have one this month that will leave you unable to operate heavy machinery for several hours. Just in case any of you out there were hoping one year I'll cave and supply you with a

 

honey

 

inspired, pumpkin-spiced mind-blower… I am happy to once again disappoint you.  If you are searching for some kind of Martha Stewart ginger-bread crumble cake nonsense, you had better renew your subscription to Better Homes & Garden. One of a kind honey goodness is all you can depend on here.

With that, I give you:

Ice Cream French Toast (with Limoncello/Hazelnut Cream Cheese filling)
Grab the recipe below- or if I've so inspired you already, you can start grabbing your favorite jars & bears right here.
Ingredients

*1 loaf Challah or Brioche bread - cut notches halfway into the loaf, 7 - 9 in total and then slice all the way through the bread on each side of the notches so each slice has a pocket



Batter

2 eggs

4 large scoops of vanilla ice cream

⅛ cup maple sugar

3 dashes of ground cinnamon

Melt ice cream in the microwave and whisk in eggs, maple sugar, and cinnamon



Filling

1 cup cream cheese

3-4 ounces Turkish Sunflower Limoncello or hazelnut honey

Instructions 

Mix cream cheese and honey mixture until blended, then move into a cake decorator.  Fill the pocket of the bread slices with this mixture.  Then dip the filled slices into the melted ice cream/egg batter. Place on a hot griddle.  Flip after 4 minutes or after the crust has been reached. Cover with mixed berries and coat with either maple syrup or maple cream.



I know…. I did it….. Again.
---