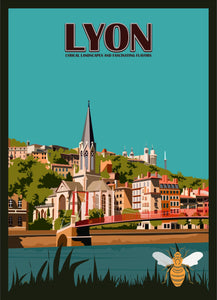 Lyon's All About Lyrical Landscapes and Fascinating Flavors
A place where two rivers meet, the capital of French and global cuisine, the birthplace of motion pictures, a vibrant honey culture, endless idyllic and urban landscapes, creative festivals, relaxing atmosphere, I could rave on about my latest European jaunt in Lyon France. And could you blame me?
I love Paris, but Lyon is like that low-key cousin of the most popular girl in school, who turns out to be all that you've dreamed of - endearing, interesting, and charming in countless ways that you get blown away completely, totally, and unexpectedly. She is beyond glamorous, she is grace personified. Lyon is such, metaphorically speaking. You can't help but get smitten by its charms.
French-ness Galore
This city is quintessentially French. Though it has that big city cosmopolitan vibe, it is filled with, not tourists, but French locals and the perfect place if you want to experience the authentic French lifestyle. It's as French as French can be! It's got everything you love about a French la vie atmosphere, plus more. The place and pace are vibrant yet relaxing at the same time. The Lyon landscape is sweetly captivating; there's almost a melody to it.
I love how it doesn't have that crowded, uptight feel and how it simply flows and unfolds its French-ness – easy, romantic, chic, unapologetically being itself in all its loveliness. The flow may have been influenced by the Rhône and Saône rivers converging in this city, both their banks offering a picturesque view of colorful houses, chalets, shops, green patches, promenades, and Lyonnais (locals) going about their day. It's almost like a graceful work of art, or effortless chic, as the French are known for.
Fast Facts
Since Lyon isn't as famous as the French capital Paris, let me share with you all the cool things I learned about this amazing city.
- This capital of the region of Auvergne-Rhône-Alpes is the third-largest city in France, next to Paris and Marseilles. The population of Lyon, France is over 500,000.
- The climate is temperate with mild winters and relatively hot and humid summers. Weather in Lyon adds a layer to its character with its temperature ranging from 3.2 °C in January and 22 °C (71.6 °F) in July. Rains come often as well as snowfall during winter months. For easy reference: the sunniest, warmest month is July. The coldest month is January. And the rainiest month is October. Take your pick!
- It used to be the capital of the Gauls during the Roman Empire and was one of the power cities during the Renaissance era.
- It isn't called the gastronomy capital of the world for nothing. Lyon is home to over 2,000 restaurants and there's no shortage of Michelin-starred restaurants and chefs. Topping their illustrious roster of rockstar chefs is the iconic Paul Bocuse, the so-called Pope of French Cuisine (yes he is that level of a national treasure).
- It is where the cinematograph- the first of its kind film camera was invented by two of its sons, Auguste and Louis Lumiere in 1892. The Institut Lumiere, with its museum and cinema is testament to their vision.
- It has some of the world's coolest festivals that elevate art and brilliance to a whole new level. The Nuits de Fourvière, one of Europe's most-anticipated summer festivals is a multidisciplinary art show. It supports artistic freedom through its patronage as well as a global venue right at the Grand Theatre (yes, a place where gladiators used to battle it out thousands of years ago). The Festival of Lights (Fete de Lumieres) is another dazzling annual event in December where the city radiates with light installations.
- It's cheaper than Paris, so you can experience more with less.
- It is home to several UNESCO Heritage Sites including the districts of Vieux-Lyon, Fourvière Hill, the slopes of Croix-Rousse Hill, and a large part of the Presqu'île.
- It's the birthplace of Antoine de Saint-Exupery, author of one of the world's most beloved books, The Little Prince.
Preserving History and Fostering Modernity
For me, and perhaps for many travelers, the sign of a progressive city is its healthy balance of modern development while still holding on to its roots. A city's charm is always a blend of its heritage and development. Lyon scores high on this aspect! Vestiges of its glorious past are still strewn across this cinematic city. From amphitheaters that date back to Gallic times to churches and piazzas that are steep in history and rich in architectural glory.
Charmingly entwined with this ancient facet is the city's progressive visage. Again, flowing together in harmony like the two rivers of Lyon. The city's urban fabric has all the imprints of the grandeur that was the Roman influence as seen in its public squares, palatial government headquarters, grand hotels, and other ornate structures. These, alongside the avant-garde stamp of creative innovation especially highlighted by its modern district aptly called The Confluence.
The Confluence: A 21st Century Renaissance Setting
Remember I told you that Lyon was a powerhouse during the Renaissance period? Well, the city has made a Renaissance repeat of sorts. This urban project seeks to revitalize and revolutionize the southernmost tip of the Lyon peninsula. Deriving its name from its proximity to where Rhône and Saône rivers link, The Confluence has turned the locale known for its port and market activities into a cultural and leisure hub.
True to its renaissance spirit, the structures and spaces here are emblematic and point to the future with confidence and creativity. The development project boasts of unique architectural designs, from the Musée des Confluences that features the Orange Cube that seems to come straight from a sci-fi movie, the leisure and commercial hub Pavilions of Salins du Midi, and the monolith or the Sucrière from where you get treated to a panoramic view of the scenic Saône River.
Here is a little video to give you some ideas of things to do in and around the city (including a little snippet about the Confluence Neighborhood):
The confluence is modern in every sense and the great thing about it is that it promotes sustainable energy. It is also testimony to the unstoppable spirit of Lyon that lives on. Make sure to experience this era-defining place when in Lyon, a landmark place that's one for the books. Certainly a great highlight of my trip.
Things to Do in Lyon
There seems to be an endless list of activities you can enjoy in Lyon. Even if you are simply strolling and taking in the scenery this vibrant city has so much to offer! Imagine being on the tour with me. Not simply reading, but picturing it in your mind.
…. So, you just finished your glass of local French wine, now you're brushing up on your French phrases, putting on your comfy outfit, hitting the streets on foot to explore the traboules, (these are small, almost inconspicuous passageways through and within buildings leading up to lovely courtyards and walkways and cafes), and ready to enjoy Lyon Avec Moi!
Let's begin.
First stop, Quai Romain Rolland for a guided bike tour. Because, what could be sweeter than biking down paved riverbanks and reveling in Lyon's scenes and sounds. After walking and exploring the quaint alleys and crannies, getting on a bike for a loop tour of Lyon's must-sees is a good idea. It lets you enjoy the city like a local, with the wide-eyed wonder of a tourist.
Lyon has something for everyone, whether you're a romantic, an adventurer, a nature-lover, an artist, on holiday with family, or some dude passionate about wine, coffee, or in my case, honey. Of course, as usual, I'm on a quest to find and enjoy honey in France but I don't want it to be an experience forced into my itinerary. I want it to unfold in its own sweet time, as I go with the beautiful flow and rhythm of this captivating city (Spoiler: That's exactly what happened!).
So now, let's make a stop at one of the city's vibrant street shops to scour for some finds (local French wine and some pralines!), have a quick caffeine fix, all the while taking in the scenery and imagining how the nights here would look like with the sparkle of the river reflecting the city lights. Ah, la vie en rose it must truly be!
From here, I'll let you imagine and create the flow of your own Lyon holiday. But to help you with that, I'm detailing my own experience as I savored the city's places, flavors, and culture. So, join me still (before booking your flight) and read on!
Lyon's Landmarks
Lyon's Fourviere district is my favorite; inviting and dotted with attractions like the Metal Tower, a 280-feet tower built in the late 1800s. There's also Fourviere Hill or the Hill that Prays, where you can find the Lyon Museum of Gallo-Roman that houses artifacts from the Roman Empire era. Right on top of the hill is the iconic Basilica of Notre-Dame de Fourvière known both for its history and stunning interiors.
Speaking of the hill, Lyon's Croix-Rousse district has been known as "the hill that works". It was the heart of Lyon's silk manufacturers in the 19th century and still has that village feel along its slopes where traditional silk workshops and boutiques are open for visitors.
The city also impresses with its overflow of classical and neo-classical structures such as the Palais du Commerce, Lyon Opera House, and Lyon Cathedral.
Now, the Food
Chocolate, wine, and cheese shops abound in Lyon and I didn't miss the chance to get my hands on these French artisan products. I got a platter of cheeses from the impressive Didier Galland.
And then, further, I went to find some more French delicacies. Going to the market here was a visual and gastronomical delight. As I walked through the bustling marché Quai Saint Antoine, one of the local markets in Lyon, shopping for olives, fruits, spices, and pastries I was also enchanted by picturesque bridges and building facades across the river that gently leads to the Fourviere basilica on the hilltop.
And now, a visual of the Bouchon (small and cozy eating places) - (thanks to France 24 English):
As for dining the French way, Lyon continued to impress with its endless culinary artistry in almost every city corner. From bouchons or small, traditional,family-run bistros sprinkled across the city, to the finest Michelin-starred restaurants, as well as numerous cafes and bars, Lyon's depths of flavors are epicurean. You can take a L'Hermes resto/ boat river cruise for authentic French cuisine or head to The Rue Mercière which overflows with these bouchons or even the upscale gourmet restaurants to sample the local fare. The menu consists mostly of flavor-rich, tricky-to-pronounce-but-uber-tasteful French dishes like Le saucisson Lyonnais à cuire (Sausages with potato gratin) or the pretty in pink La Tarte à la praline, a sweetly satisfying almond cake drenched in pink or reddish sugar.
And that was my cue, I knew I was close to unearthing the treasure, being led by my taste buds and sense of adventure to THE MIEL, or honey in French, right in the heart of Lyon!
Honeymoon
Nope, I wasn't on a honeymoon trip although Lyon does make a perfect romantic getaway for lovers. I'm talking about the globally distributed French honey called Lune de Miel. Yes, that famous honey that many households use for cooking and spreading on pastries.
What is miel honey?
Being in France, I wanted to get to know this popular honey better. As I learned from the local beekeepers, Lune de Miel's manufacturer, Famille Michaud Beekeepers are a celebrity in their own right when it comes to all things, honey. A family-run company founded in 1920 in the Pyrenees, the brand is known for state-of-the-art techniques that have evolved since its early years.
Its masterful processes from beekeeping to bottling have been enriched by innovation and the use of advanced technology to make honey free from impurities while preserving its natural taste, origin, uniqueness, and freshness. In other words - all the goodness of honey minus the pesticide residues, bee legs, scraps, etc.
Their analysis and the verifying process are so stringent that they reject around 37% of honey production proposals presented to them. Only the pure, unadulterated honey passes their test and that sounded good to me.
They are known in France as miel masters and are the second-largest honey company in the world.
According to their website, this three-generation old company specializes in the production, jarring and commercialization of high-quality honey and products of the hive, under the brands' LUNE DE MIEL® et MIEL L'APICULTEUR®. Yes, they are that huge here.
This clip is in French but not to worry, subtitles are included (thanks to Famille Michaud Apiculteurs)
Lune de Miel Pure Bee Honey Review
The great thing about Lune de Miel is that their claim, "100% pure" (no additives or preservatives) is evident in its taste and aroma. For something mass-produced and widely traded, Lune de Miel honey does retain its original flavors for longer. Little wonder why many homemakers and gourmet artisans stock up on it as their go-to creative ally while cooking. The accessible brand offers a wide range of honey flavors like Acacia, Royal Jelly, Flower Honey, Creamy Honey, and many more. Each flavor stays true to its rich taste whether fruity or woody depending on the variety.
Indeed, this iconic brand is best experienced when in France. And Lyon, with all its graceful beauty, made the perfect backdrop as I relished the Lune de Miel Flower Honey, totally divine on my fluffy brioche toast. And under the city's romantic moonlight, which gave the rivers a special glow, I couldn't resist licking my fingers.
That was a sweet, gentle night that concluded my Lyon trip.
'Til next time! Au revoir!
---