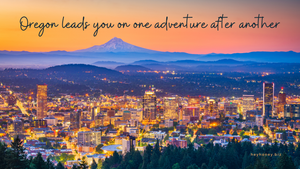 Oregon: A Taste of Sweet Valley, S'mores, and Sights
Being a honey enthusiast, I guess it follows that I'm also a sucker for life's sweet adventures. I consider myself like a sponge sans the square pants (more like sweatpants) that absorbs anything meaningful I come across along the way as I travel. While some people get jaded with doing the same things over and
over again, travelling and sharing my honey ideas with as many people across states and beyond never gets old for me. I get a high out of it and I am always excited to share my stories - all of it. Hence, this blog!

And so here I am again, typing away with a grin on my face, trying to put down into words, my experience in yet another border state. This time, in the Pacific Northwest region. The West Coast got me all fueled and fired up for another backpack trip to the edge, right into the heart of Oregon!
I've always known Oregon as a diverse state in terms of geography, industry and population, but the feel and force of its diversity is something you only REALLY get when you actually set foot there and get to experience things first hand. It's as diverse as diverse can be without you being intimidated by its vast range of offers. It must have been a really attractive place for explorers of old, with its rich mix of topography and wildlife. Its flora and fauna can fill an entire season of NatGeo and that's just the tip of the iceberg. Its diverse regions have oceans, mountains, valleys, high deserts, big cities, small towns, nature parks, and all those landscapes, artists love to paint about. If that ain't sweet then I don't know what is. No wonder the early Hispanics loved it, history enriched it,
and now THE HIVE is gushing about it.
Oregon and on and on
Bordered by Washington, California, Nevada, and Idaho, Oregon mostly beams with a sunny and
laidback vibe permeating the lifestyle of its people and that's something I love about the place. It
reinforced my love affair with nature's beauty and bounty and the general atmosphere this side of the
West Coast is a continuing chill-out and charming flow of activities and discoveries all around.
Willamette Valley – more than just wineries
This long valley is like the hub of the state where much of the cultural and political affairs see action. It is surrounded by beautiful mountain vistas and the Willamette River runs through it. It is known as "Oregon Wine Country" and its expanses of vineyards and hundreds of wineries make that label stick for good. 
All these conjure up images of outdoorsy fun from exploring mountain slopes to inland trekking to enjoying the rocky coast. 
So, with a wine bottle in my hand and a dreamy landscape before my eyes, I was up for anything Oregon could offer. But looking for things to do in Oregon seems like an inaccurate statement. Because an Oregon trip actually feels like nature calling and leading you on one adventure after another. All you need are an appetite for spontaneity, a sturdy pair shoes, and a backpack-full of boy scout stuff to get you to places of fun and flavors.
Meadowfoam and Me
Meadowfoam fields abound in Oregon down to Northern California.  Native to the Pacific Northwest, it derives its name from the resemblance of the meadowfoam blossom field to the white foam on the ocean. I learned that it used to be widely sought for its seed oil, used in machinery, livestock, and even cosmetic products. Talk about versatility and massive uses for something so dainty-looking.  (photo credit - pdxpipeline.com)
What I love about it though is the unique flavor of the honey derived from it. It has that vanilla, marshmallow-like taste that many folks easily fall for. Meadowfoam honey used in any dessert recipe always appeals to me. 
And so I scoured the internet for something delightfully sweet made with it as I went about exploring Oregon's various landscapes. I thought, "Camping by the water enjoying some s'mores with meadowfoam honey slathered on home-made honey graham crackers" sounded like a delicious idea. S'mores were like the coolest thing about camp treats back when I was a kid, so why not recreate the experience? (photo credit - Schramm's Mead Online Store).
Smokey, gooey, sweet, it always feels good to have it, no matter what age you get to. And since I was at the perfect place for it, I didn't pass up the chance to relive that cool summer camp experience. The LaPine State Park's quiet campground alongside the winding Upper Deschutes River served as the perfect backdrop for my plan.   
My taste buds were already screaming for that meadowfoam honey flavor and Oregon meadowfoam raw honey was right at home. All I needed were a few more ingredients that were easily available and I was ready to sweeten things up at the camp. 
I also pushed myself a bit further by making honey graham crackers from scratch, not at the camp, of course . Hey it was a nature trip and it felt right and tasted great so…. here's the recipe!
S'mores with Homemade Honey Graham Crackers 
From The Ashville Bee Charmer Cookbook
Ingredients
¼ cup unsalted butter, at room temperature

¼ cup firmly packed dark brown sugar

2 tablespoons grapeseed oil

3 tablespoons wildflower honey

1 tablespoon unsweetened applesauce

½ teaspoon pure vanilla extract

½ teaspoon ground ginger

¼ teaspoon baking soda

¼ teaspoon kosher salt

1¼ cups whole wheat flour 

2 tablespoons + 2 teaspoons meadowfoam honey

5 tablespoons + 1 teaspoon bittersweet chocolate chips

16 large marshmallows
Instructions
Preheat the oven to 350°F. Cut 16 (5 × 3-inch) rectangles of parchment paper and set them aside. 
In a medium bowl, stir together the butter and brown sugar with a spatula until well incorporated. Add the oil, wildflower honey, applesauce, vanilla, ginger, baking soda, and salt and stir well. Add the flour and stir until just incorporated. 
Divide the dough into 16 equal pieces. Take one piece and place it on one of the prepared parchment rectangles. Using the parchment paper as a guide, shape the dough into a rectangle by rolling it out until it's about ¼ inch thick and 4 × 2 inches in size. With a butter knife, score the dough about three-fourths of the way through so that each cracker is a 2-inch square. Poke a few holes in each cracker with a fork. Repeat with the remaining 15 dough balls. 
(photo credit - Trendhunter.com)
Transfer the crackers with their parchment paper to a baking sheet. Bake for 7 to 8 minutes, or until the edges are lightly browned. Remove the crackers from the oven and transfer them to a wire rack to cool. 
Turn on the broiler. Line a baking sheet with aluminum foil and set it aside. 
To assemble the s'mores, break each cooled cracker into 2-inch squares. Spread ½ teaspoon of the meadowfoam honey on 16 of the squares. Place 1 teaspoon of the bittersweet chocolate chips on each honey-smeared cracker. Place 1 marshmallow on each mound of chocolate chips. Transfer the 16 crackers to the prepared baking sheet. 
Broil for 30 to 60 seconds, or until the marshmallows are lightly browned. Remove the baking sheet from the oven and top each s'more with one of the remaining crackers. Serve immediately. Store any leftover graham crackers in an airtight container at room temperature for 2 to 3 days.
Indulging in that lovely burst of sweetness of s'mores with pure raw meadowfoam honey on my very own crackers was cool! And the few hours of trekking, sunshine soaking, and fly-fishing made my camp experience the perfect kickstart to a series of fun trips in Oregon. 
Wild about Wildflowers
If hiking is your thing and you're also wild about vibrant fields of wildflowers, Oregon has some of the best you could find. The Iron Mountain Trail for example, close to Sweet Home in the Willamette National Forest, is a scenic 5-mile loop that leads to a beautiful vista of bloom fields. The area is home to more than 300 types of wildflowers, including flax, penstemon, yarrow and saxifrage — all popular with hummingbirds, so birdwatching on the side goes along with this, too. Awesome right!?
But wait, there's more. Click here to find more about these wildflower hikes and pick the best one for you. 
From Coasts to Cliffs
Oregon also offers water adventures that include rafting, kayaking, and stand-up paddle boarding. Did I say Oregon is filled with sweet adventures? This part here is the spiced up version! The rapids are the wet and wild side of this state where you can have your fill of excitement and thrill. Chetco River, for instance is for those looking for some hard-core adventure.
(photo-credit - westernrivers.org)
It begins with a 10-mile hike through the Kalmiopsis Wilderness. Then you'll be met by green canyons, boulder-congested rapids and green pools of crystal-clear water, and lush forests. It's the perfect adrenaline pump!
Oregon is also packed with biking routes that showcase its breathtaking sceneries. Told you, it is so diverse it's got something for everyone. Its high-desert highways, covered bridges next to roaring rivers, snowy mountain passes and charming communities are what dream biking routes are made of. (Cue song: "Sweet dreams are made of these, who am I to disagree?"…) 
Pleased with Portland 
From the rustic outdoors to the refinements of a metropolis. I have no problems transitioning like this. So let's take a couple of secret day trips from Portland and discover this big city's charm.
My day trips from Portland Oregon felt like an interplay of spunk and romance. As it straddles along the Willamette River, it's got its pretty fine share of some of the loveliest bridges I've seen. Its cityscape's character is enriched by these landmarks as they seem to brandish the city's progressive port identity. Some are centuries-old like the Hawthorne Bridge (1910), Steel Bridge (1912), and Broadway Bridge (1913). These architectural and engineering masterpieces give it a feel of a gracious flow of ideas, people, and progress.
Portland is like a hectic city that still carries the peace and quiet of the areas surrounding it. Okay, I cannot fully and eloquently describe it and I'm good with food and eating so let me try it another way… Think a large modern kitchen that's well-equipped so you could quickly whip up a hearty soup. One slurp and you instantly feel the vibe of a countryside cottage kitchen. Definitely modern with all the new technology but its spirit emits a certain kind of laidback warmth. There! Spot on.
(photo credit - thegodfreyrealestategroup.com)
After days of taking in some of Oregon's wonders, I got myself ready to head back home. I got my fill of adventures and flavors I could almost imagine dreaming about all things Oregon in my sleep – nature trips, family day trips from Portland, meadowfoam blossom, meadowfoam honey mead, meadowfoam honey health benefits (still can't get enough of that s'mores with honey treat), romantic bridges, wildflowers, the wilderness, the city, and everything in between. 
But before I sign off, let me emphasize a few things.
One. To fully enjoy that s'mores recipe like I did, use pure raw meadowfoam honey. It seems Oregon Meadowfoam Raw Honey was what made it extra special. And the fact that I was in Oregon! In a camp! It couldn't get any sweeter than that. 
Two. Be ready for anything. Get a mix of all kinds of adventure you can possibly have – from the relaxing to the exhilarating and you won't feel sorry you missed out. You'll discover new things to love and learn. 
Three. Next time you crave for an outdoor adventure, heed the call of the West Coast and savor all it has to offer. Which, by the way, are some of the best this side of the world. 
Oregon plus meadowfoam honey experience plus scenery-laden adventures are like the ingredients that make a lovely, decadent dessert. Something I don't mind dreaming about and experiencing again and again. 
Well then I shall catch up with you next time for another adventure and honey recipe to share. For now, let me head to the kitchen and whip up something delightful. Perhaps s'mores on honey graham crackers again? YES!

---