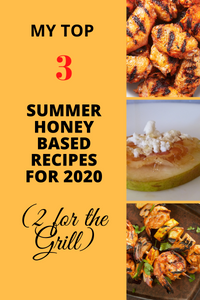 Our Top 3 Summer Honey Recipes for 2020
Long Lists Are Over Rated
Today I am giving you the short list of honey recipes that are turning the most heads when I mention them at the honey booth.  To bee fair (hardy har har) you can make these whenever you like but they are made most often in the Summer. Since I am such a swell guy, I'll even give you my honey pairing suggestion (I would do that anyway).
#1 - Grilled Salt and Pepper Chicken Wings
Some of you way know, I also operate a hot dog & grilled sausage cart.  Unfortunately I only grill sausage so I can't make this Summer staple for you but if YOU have a grill, trust me, you could bang this out faster than I could - AND you would have the freedom to tweak the recipe on demand (I have to stick to a specific recipe).
If you prefer to broil - broil on a foil-lined jelly-roll pan 8 to 10  inches from heat.  Keep the meat on heat for approximately 20 minutes (or until done).  Check and turn halfway through. Once complete, you kick up the flavor with this drizzle:
1/4 cup melted butter
1/2 cup honey (pineapple honey - if you fancy a Hawaiian flare)
1 tablespoon apple cider vinegar
Assembly:
Melt butter in a saucepan over low heat 5 minutes (you knew that) . Move to a sauce bowl, and allow to cool. Warm (do NOT 'cook')  honey and vinegar in a saucepan over low heat, stirring often - just a few minutes. Once heated, whisk in browned butter. Baste or dip cooked chicken. Call me over for dinner - thanks for doing all the heavy lifting.  I'll bring the jokes and cheap wine.
For those of you who are looking at this and saying,
"Jay, that's all well and good, but that recipe is just a lot of reading."
I say "Jesus, you're lazy." 
I also say "Fine - here is a video (with some recipe variations):
 #2 - Pancetta Crisps with Goat Cheese & Pear (For the Gourmet Snacker/Snob in your group - P.S. Every group has one)
As far as photographs go, this item is gorgeous. It's basically the Cheryl Ladd of honey dishes (shameless 70's reference there). Only difference really is that you actually have a shot with this one. Here is how you put it together:
Ingredients:
Baked Pancetta 
Bartlett Pears
Crumbled Goat Cheese
Honey (if you feel like pairing one of my flavors with it, I would suggest the plum or lemon & ginger)
First, be selective with your Bartlett pear selection.  Create slices with baked pancetta, crumbled goat cheese, and a drizzle of honey for an easy, salty-sweet appetizer recipe that tastes delicious and looks gorgeous.  If you have an artistic streak, you could make this happen:
"Jay, again with the reading".  I shouldn't bust your collective humps too hard.  After all, if you are too lazy to read this, you're too lazy to cook it.  That being said, I am a fairly giving kind of dude.  I'll give you yet ANOTHER VIDEO to walk you through the process.  Now, bare in mind that there are only so many hours in the day.  In combination with bee keeping, bottling, steeping, marketing, sales, etc... I do not have the time left over to shoot and edit my own instructional videos.... yet.  So, for now, you will need to bee (ha) content with the stylings of some other internet chefs who have their own variation of the recipe I am suggesting.  Deal with it. 
#3 - Shrimp & Vegetable Kabobs (hope you have plenty of propane in that grill)
I told you 2 of these recipes were for the grill. Now buckle up - you are going to need a few things:
Ingredients
16 7- to 8-inch wooden skewers
2 tablespoons spicy brown mustard 
1 1/2 pounds peeled, jumbo-size raw shrimp with tails (16/20 count) 
1 tablespoon Caribbean jerk seasoning 
3 yellow squash, cut into 1/4- to 1/2-inch slices 
2 zucchini, cut into 1/4- to 1/2-inch slices 
1 red bell pepper, cut into 1 1/2-inch pieces 
1 tablespoon olive oil
Salt and pepper to taste     Don't worry - the pay off is totally worth the investment.  When you're done, you'll have something that looks like this:
Soak wooden skewers in water for approximately 20 - 30 minutes. Stir together honey and spicy brown mustard. Toss shrimp with Caribbean jerk seasoning, Combine 2 Tbsp. olive oil, and 1/5 tsp. salt. Thread onto the skewers. Then thread squash slices, zucchini slices, and red bell pepper pieces, onto remaining skewers. Brush vegetable kabobs with 1 Tbsp. olive oil; sprinkle with salt and pepper to taste. Grill kabobs, covered with grill lid, over 325° to 350° heat. Grill vegetables 15 minutes or until tender, (don't forget to turn). The shrimp get grilled 2 minutes on each side (just until shrimp turn pink). Baste shrimp with honey mixture.
So now, I'll go 3 for 3. Check this vid out to give you the blow by blow.  Just FYI, the banjo at the start of this video sucks - sorry.
And there you have it.  Feel free to bring me some left overs.  Snnoooooch!
---