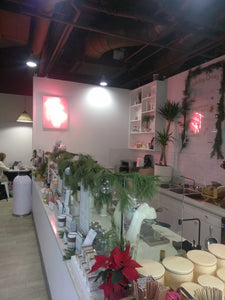 Pop Up Market - Teaspressa - Ann Arbor
Do you have an interest in a pop-up event?  Are you one of those people who has asked me when I am going to sell tea with my honey?  Are you sick and tired of having that bargain basement, garbage tea from one of those (to be un-named) corporate owned coffee places?  Well, if you live in or near Ann Arbor, you should come to visit me at Teaspressa this Friday the 14th of December from 1:00 to 6:00 PM!
These cats reached out to me directly and showered me with accolades about my honey and what I do for a living.  Then they invited me to participate in their pop-up event.  And since I have such a healthy opinion of myself, I took them up on it!  It's a super cool coffee and tea shop that sources and crafts their own products.  Worth checking out? More than probably. 
Worth checking out knowing that your fav honey guy will be on site doing flavor pairings of pineapple honey with a new found green tea? Definitely.  
See you Friday! 
---